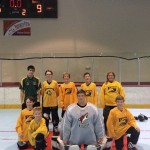 Peoria SportsPlex Youth Inline Hockey
The Peoria SportsPlex has a youth inline hockey program on Saturday mornings for male and female players who are 14 years old and younger.  We play all our league games on Saturday morning between 8am – 11am except on holiday weekends. Our standings, rosters and schedule are available online at the Peoria SportsPlex hockey website at  http://www.peoriasportsplex.com. We also have a limited amount of inline skates and protective equipment for your use.  If you are an existing player and have loaner equipment please feel free to donate it to future players of the sport of inline hockey. If you are new to the game we run beginner youth clinics periodically to help develop player skills. We are assisted by many parents and volunteers who help to provide for a fun and safe environment to play. We welcome your help.
Registration is available for league play on the website. We start a new season every ten weeks. One season is 10 games including playoffs.
Thank-you for your participation.